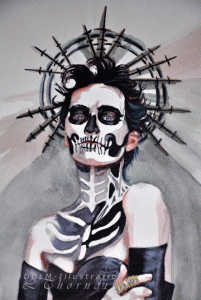 Dime cuando todo el mazo de tarot está listo o
Me gustaría obtener más información sobre otros productos con el arte.
(Tell me when the whole tarot deck is ready or
I would like more information about other products with the art.)
This deck has been five years in the making. The artist has been funded via a stipend from a loan from the retirement account the techie and entrepreneur who founded TNR Global. This approach was simplier and more reliable than crowdfunding by Kickstarter or Indiegogo. However this does need to be paid back.
If you sign up and answer our survey soon,
you'll get a discount coupon on the decks and related merchandise.
---
Sign up for our list