four of Scepters
BUY ME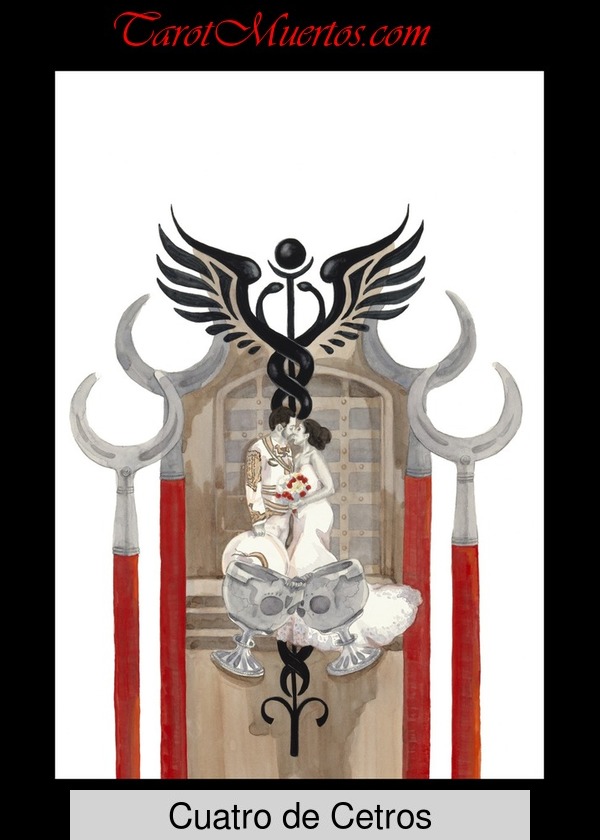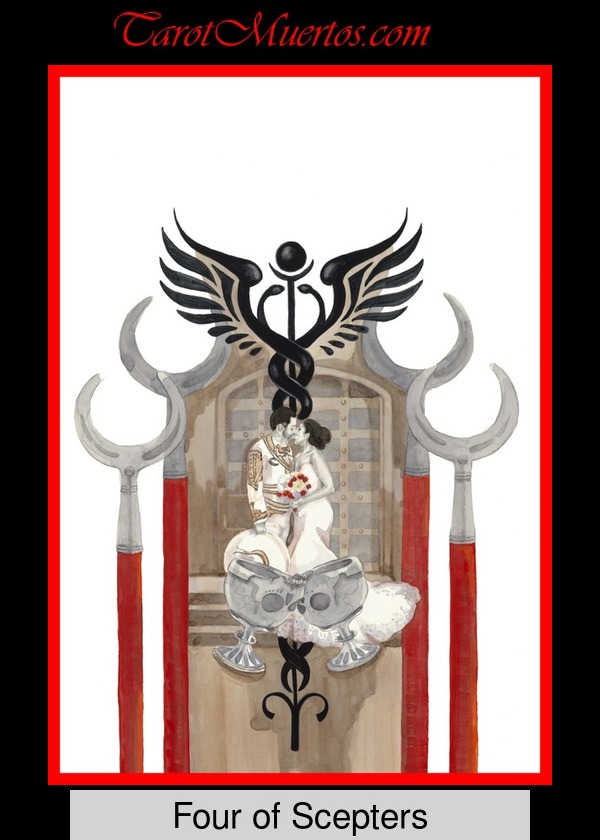 Four of Scepters – Cuatro de Cetros
Four of Wands (scepters)
Celebration, harmony, marriage, home, community
Rider-Waite: Uses Wands instead of Scepters.
In the Four of Wands, a couple dances beneath a welcome wreath, tied between four crystal tipped wands. The canopy of flowers on the four wands is also similar to the wedding canopy or chuppah of the traditional Jewish ceremony and thus represents a time of fulfillment and satisfaction at the attainment of a goal.
In the background stand another group of people, just in front of a large castle, also decorated in flowers. It appears as if a celebration is being held, perhaps as a homecoming or a celebration from within the castle.
The Four of Wands heralds celebration, good times, a happy and harmonious home environment and good news. In numerology, four symbolizes stability and firm foundations, and in the case of the Four of Wands, you are now enjoying a period of happiness and stability. This card indicates a sense of harmony and balance as well as completion, and thus symbolizes a time of peace and joy in life that come as the result of often difficult and challenging effort. The Four of Wands is one of the most positive cards in the Tarot deck and indicates general good fortune, satisfaction, and fulfi1ment.
With the Four of Wands, it is the perfect time to get together with your family and friends and to celebrate all the wonderful times that you have had together, often, this card reflects the holiday period where you get together with the extended family and join in a celebration. Alternatively, it may be as simple as inviting your closest friends over for an intimate dinner and a few glasses of nice wine. The Four of Wands often points to a marriage, engagement, birth of a child, a birthday, graduation or other type of celebration that marks a special milestone.
LT note: Maybe use the alternative to my two grails, mexican wedding records, using wands.

BUY ME
(click to see Various products available)